Wall of Thanks Exhibition
Posted on: 12 August 2020
Kirsten Major, Chief Executive of Sheffield Teaching Hospitals unveiled our 'Wall of Thanks' on 4 August 2020 in the brand new gallery corridor at the Northern General Hospital.
Images of colourful rainbows, flowers and hearts were created by children and families of our hospital staff and local residents and now serve as a tribute to the workforce of all our hospitals and community services.
The eye-catching display, kindly funded by Sheffield Hospitals Charity and curated by the Trust's Arts in Health team, serves as a place of reflection and a reminder to all key workers that their efforts during the pandemic continue to be highly valued and appreciated by the people of Sheffield.
Adrian Stone, Chairman of Sheffield Hospital's Charity, commented, 'Everybody in Sheffield and indeed, the rest of the country is united in their gratitude for all that the NHS and its incredible staff have done for us throughout these difficult times. Nothing has captured that better than the rainbow image.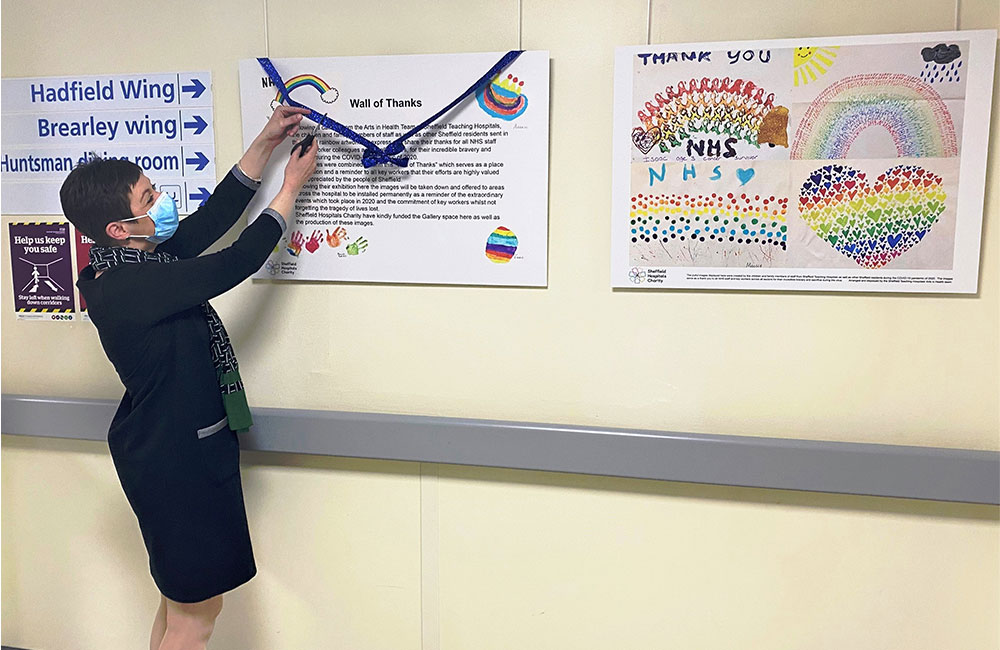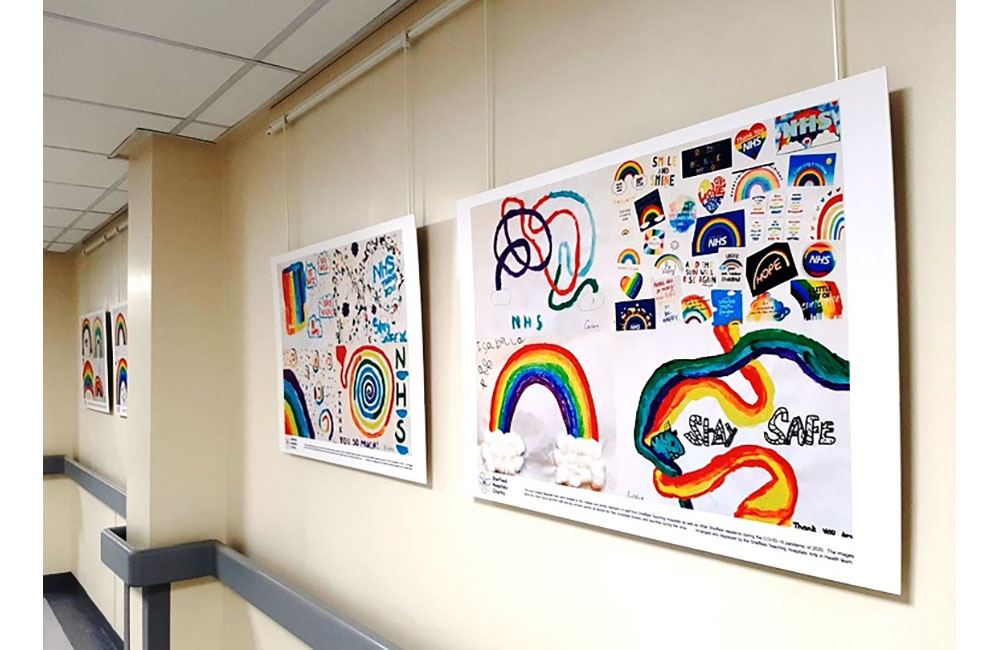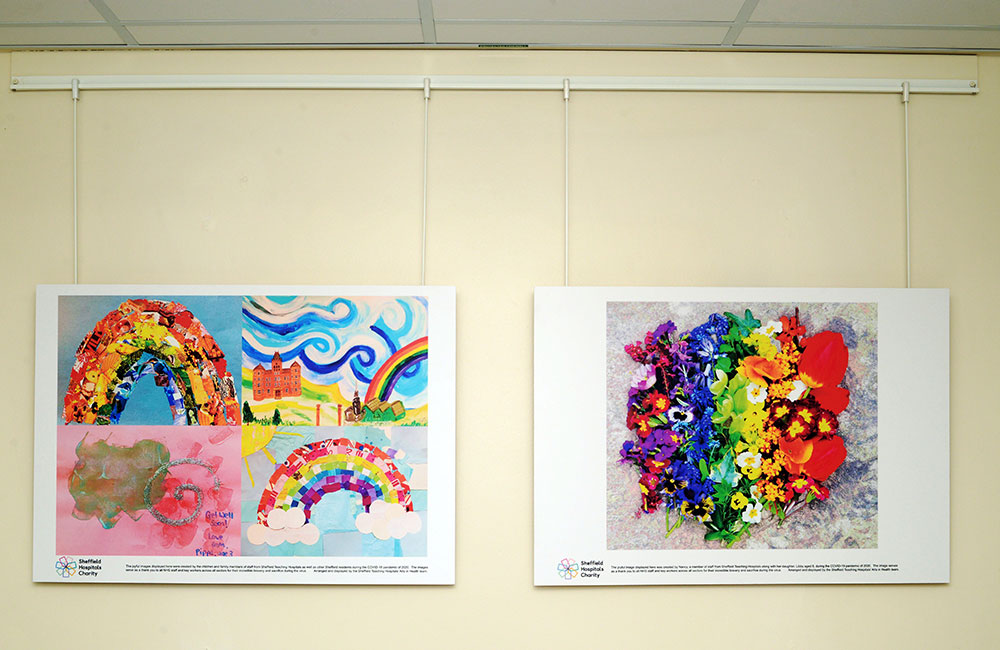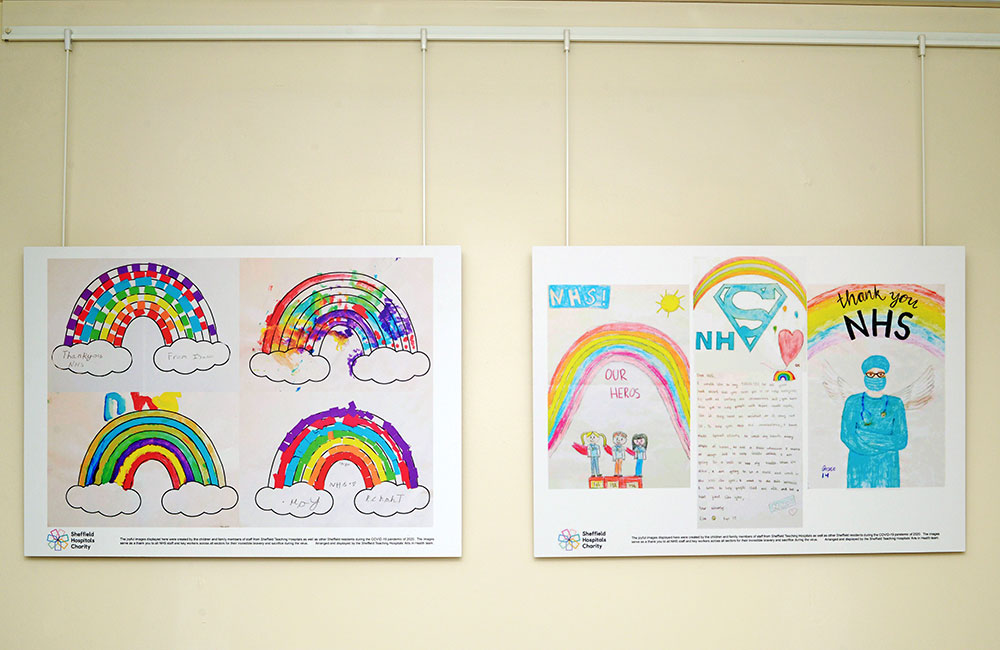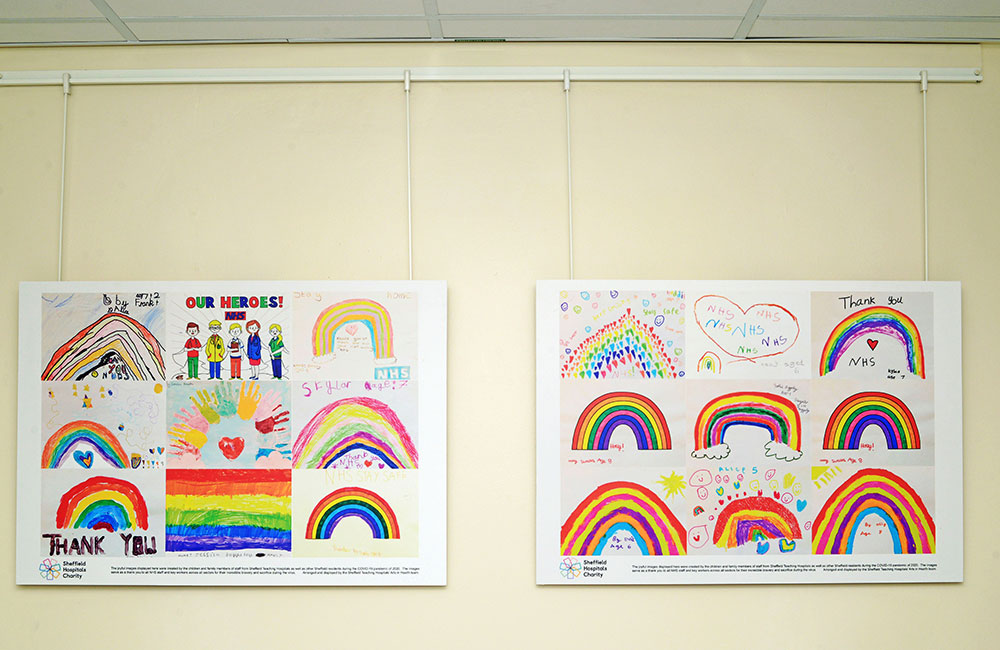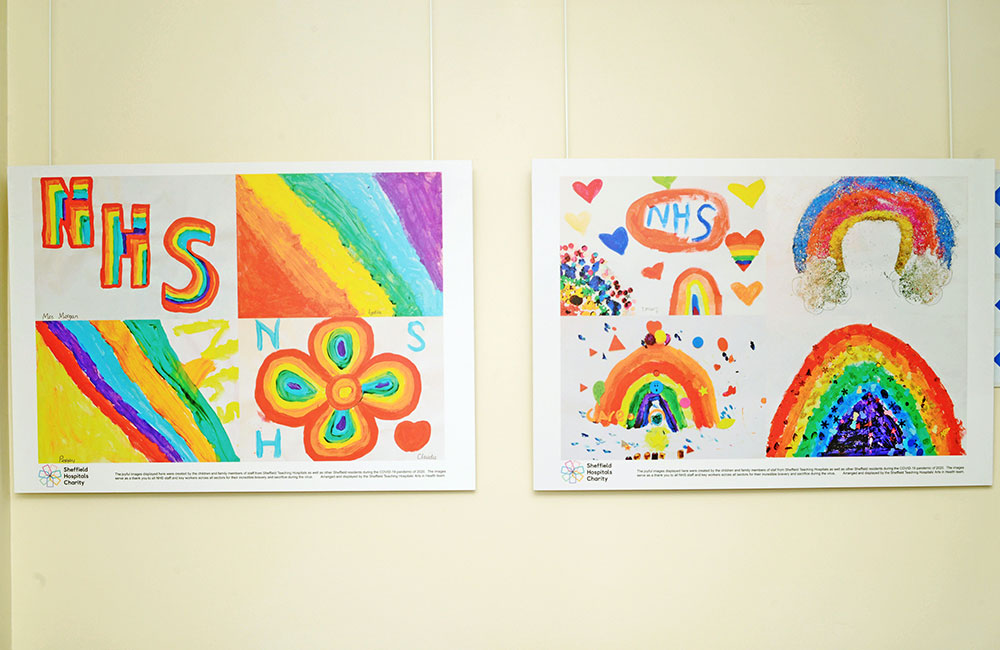 'We are thrilled that these wonderful pieces of artwork can now be installed as a permanent reminder of the gratitude and thanks that we give to all the staff in our hospitals and community health services. Staff can come and visit the wall to see just how valued they are. Our thanks go to everybody who has sent in a piece of artwork!'
Kirsten Major added, 'It was a huge privilege to formally open the Wall of Thanks. The wall represents the unbelievable kindness of our city; its resilience in managing lockdown and shielding; and the phenomenal dedication of not only NHS staff but all key workers.'
Emma Scott, Arts in Health Team Manager, said, 'We wanted to create the Wall of Thanks to acknowledge the hard work and sacrifices of both NHS staff and other key workers during the COVID19 pandemic. We hope that the display will bring both joy and reflection to those who see it and we thank everyone who has contributed artworks and those who have helped us to realise the exhibition, including our colleagues in the Estates department and all members of staff and their families that sent in their artwork.
'Following the exhibition of the images in the Huntsman building within the Northern General site, these images will be taken down and offered to areas across the Sheffield Teaching Hospitals Trust, including community clinics to be installed permanently as a reminder of the extraordinary events which took place in 2020, and the commitment of key workers whilst not forgetting the tragedy of lives lost.'
Pictured: Kirsten Major, of Sheffield Teaching Hospitals NHS Foundation Trust Chief Executive, cutting the ribbon to open the Wall of thanks exhibition. Two boards containing groups of images from the Wall of Thanks exhibition.
The Arts in Health team relies on the goodwill of our dedicated team of volunteers. We also regularly work with professional artists and musicians on a variety of creative projects across the Trust.