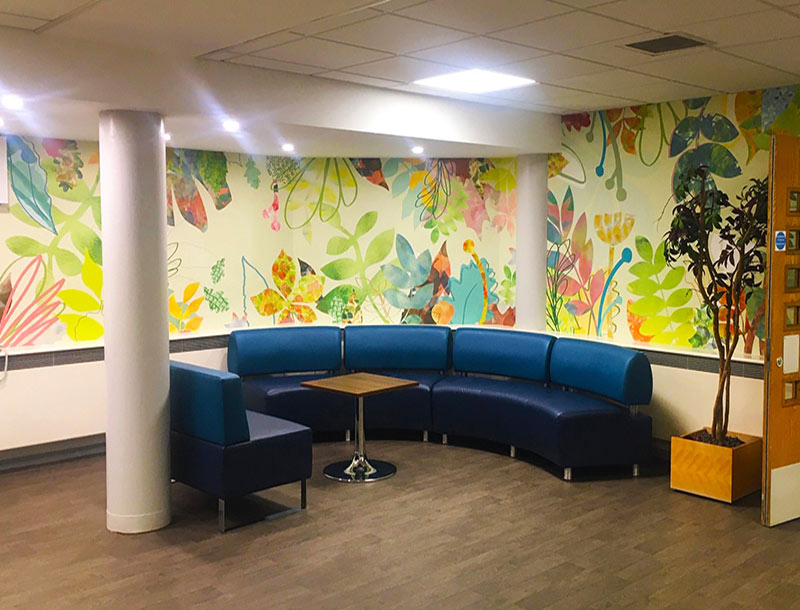 Spinal Injuries Unit foyer, Northern General Hospital
This stunning artwork was designed by artist Jacqui Symons who worked with our patients and staff to produce ideas for the final wall vinyl, bringing the concept of forest bathing into this, previously drab, indoor space.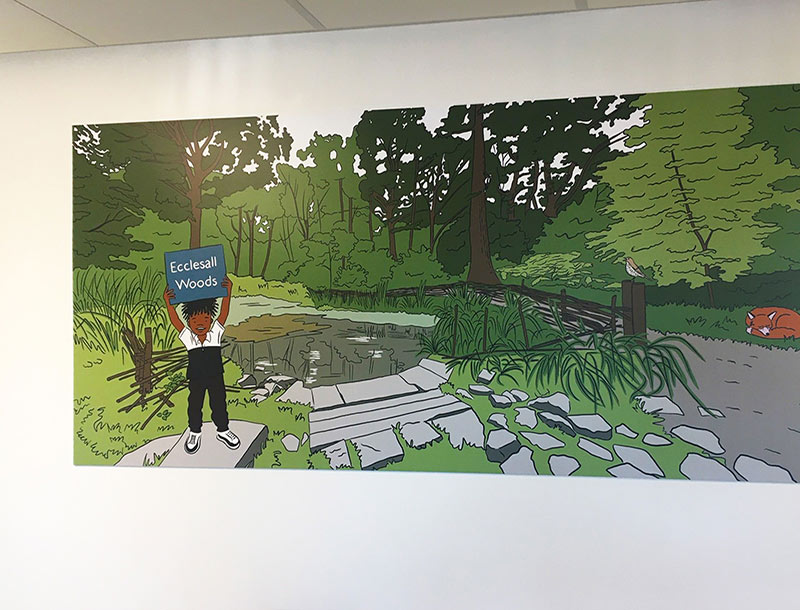 Wheata Dental Clinic, Parson Cross
Dan Savage created wonderful images of local green spaces and well-loved landmarks for the refurbished community dental clinic.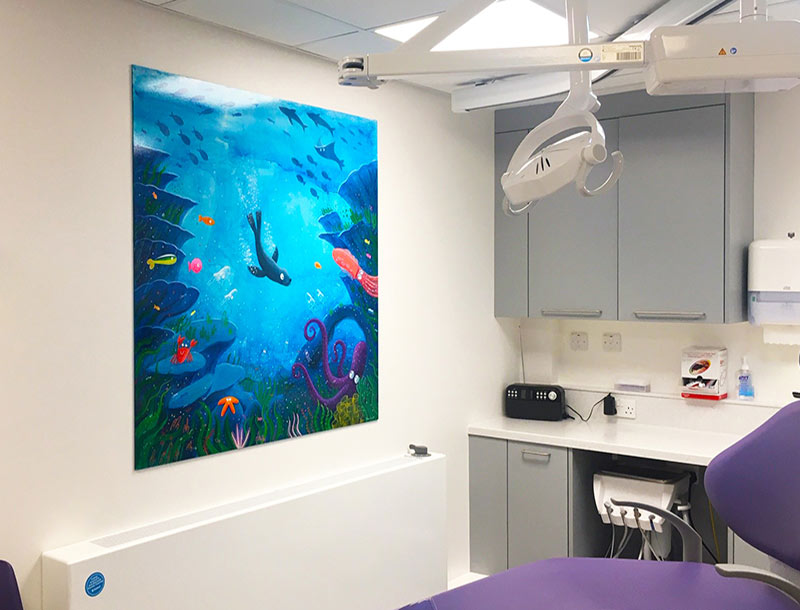 Wheata Dental Clinic, Parson Cross
Artist James Croft created some bright paintings for the paediatric part of Wheata dental clinic using themes of underwater and forest spaces to appeal to younger patients during their visits.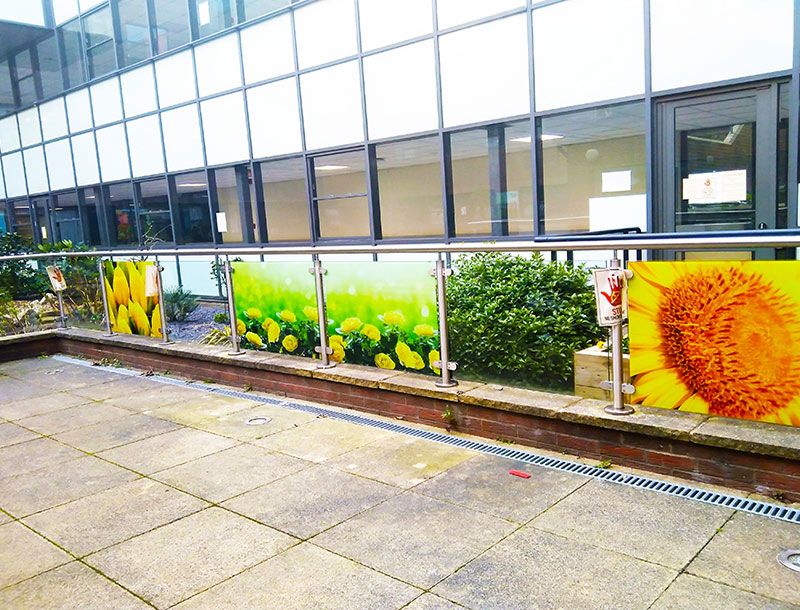 Firth 2, Northern General Hospital
Staff on Firth 2 ward chose some cheery images of yellow flowers to feature on the glass panels in their garden space for both patients and staff to enjoy.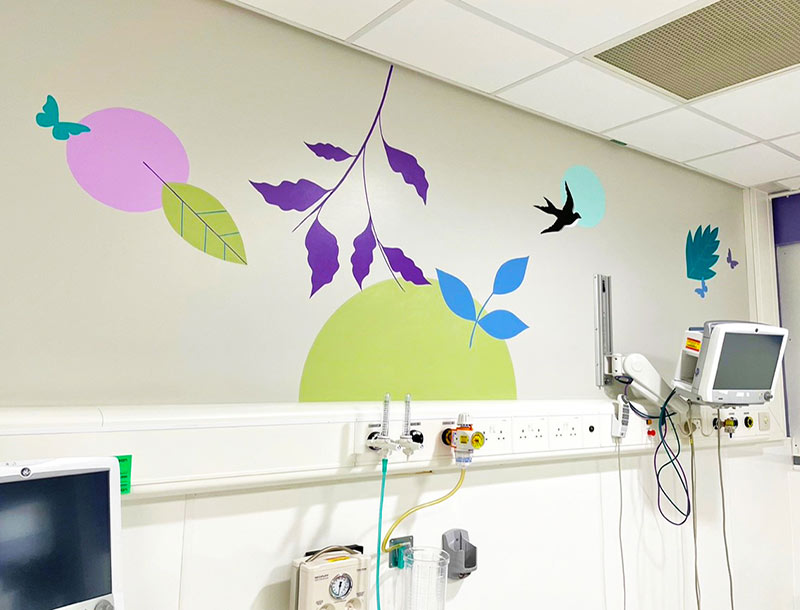 Neonatal Unit, Jessop Wing
Artist Lynn Hollingsworth designed and painted some beautiful, calming images for the neonatal unit in Jessops maternity hospital.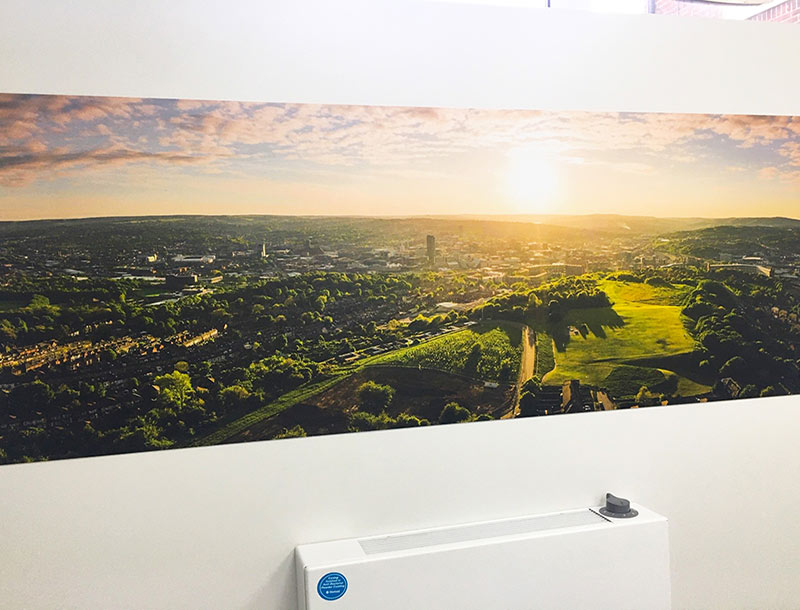 Firth Park Dental Clinic, Firth Park
This popular image of Sheffield brightens up the wall in Firth Park Dental Clinic's reception area.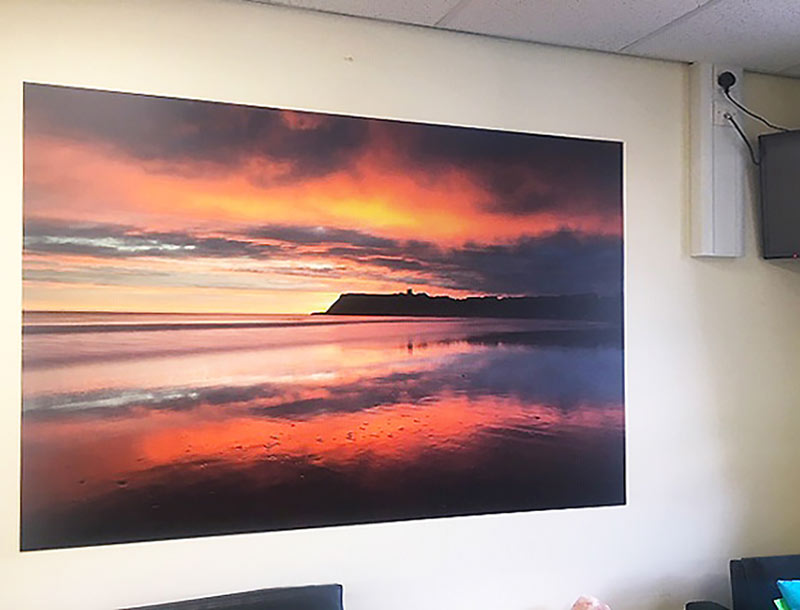 Coronary Care Unit Calm Room, Northern General Hospital
Staff working in the Coronary Care Unit chose this beautiful image of a North Yorkshire coastal sunset to add serenity to their staff calm room.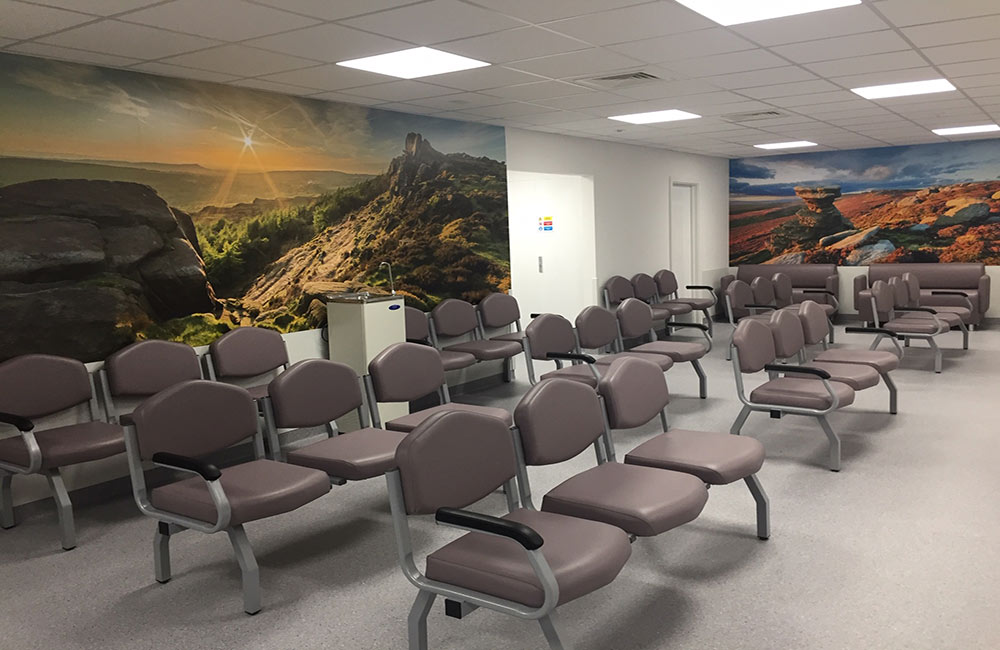 MSK (Musculoskeletal) B floor, Royal Hallamshire Hospital
Two beautiful photographs by Stephen Price showing stunning local landscapes. These floor to ceiling images brighten up the waiting area at MSK.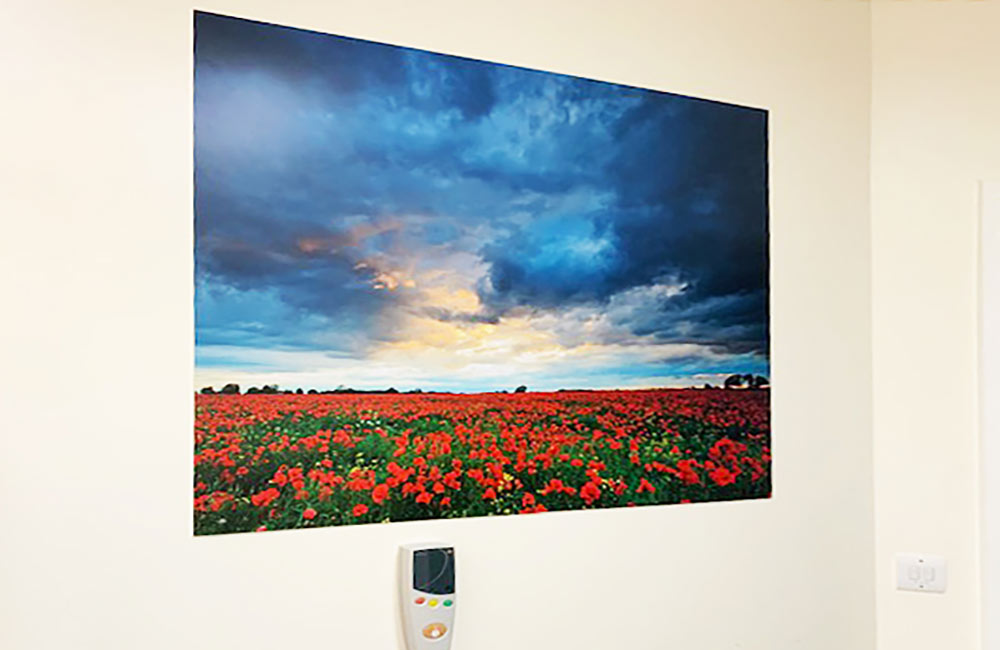 Urology Outpatients, Royal Hallamshire Hospital
A number of additional landscape photographs, by Stephen Price, Graham Dunn, Chris Upton and Francois Taylor, were installed across the department and have been a talking point for both staff and patients.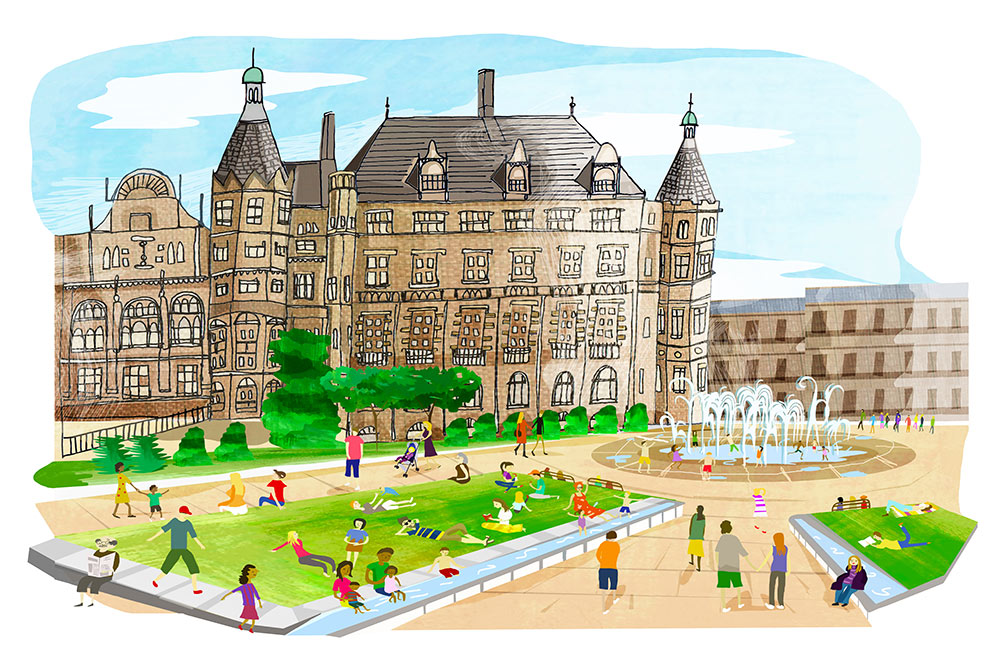 Surgical Outpatients B floor, Royal Hallamshire Hospital
Four pieces of beautiful artwork by illustrator Kate Morgan, depicting local landmarks such as the Peace Gardens, adorn the walls at the Surgical Outpatients department.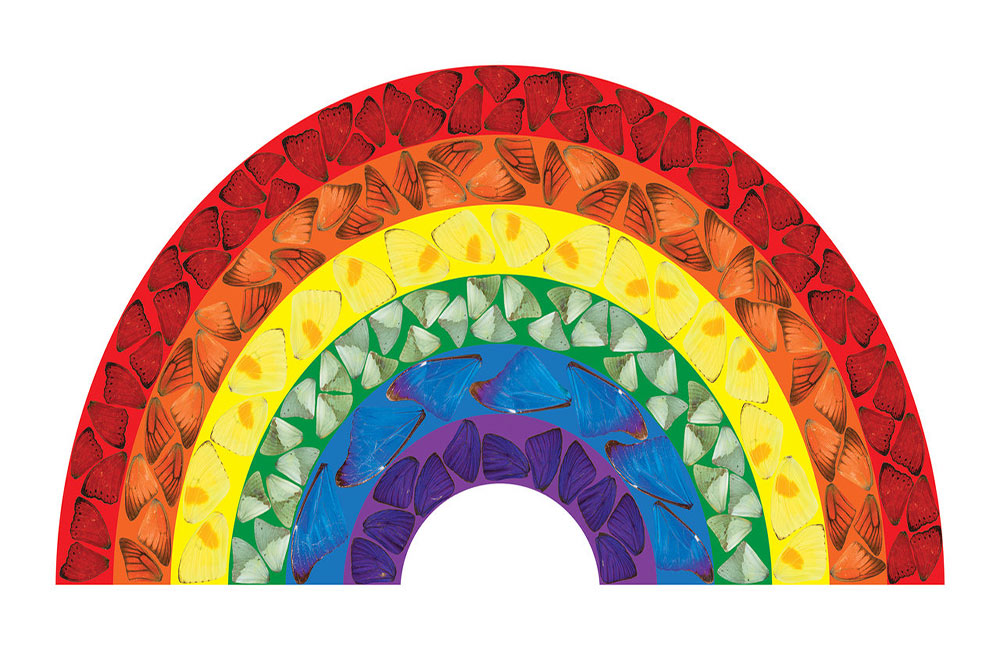 Huntsman main entrance, Northern General Hospital
In May 2020, artist Damien Hirst created a new piece of artwork titled Butterfly Rainbow, which he made to show support for the NHS in the Covid-19 crisis. Sheffield Teaching Hospitals NHS Foundation Trust was one of a number of hospitals who received a donated work from Damien Hirst.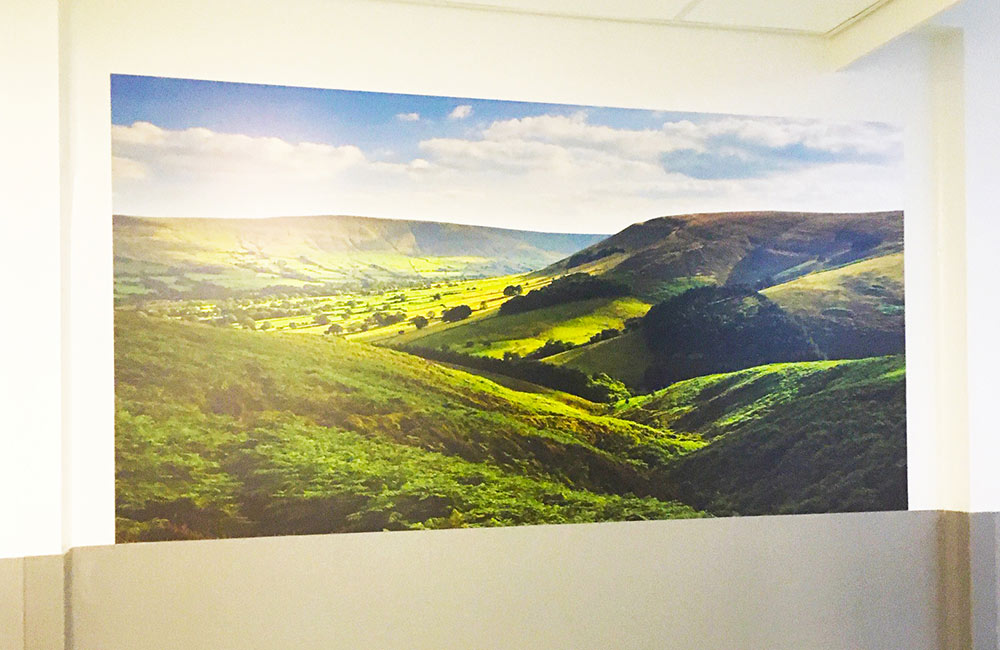 Radiology room, Weston Park Hospital
Photographer Stephen Price provided the lovely 'Eden Valley' image that adorns one of the walls in the radiology room at Weston Park Hospital.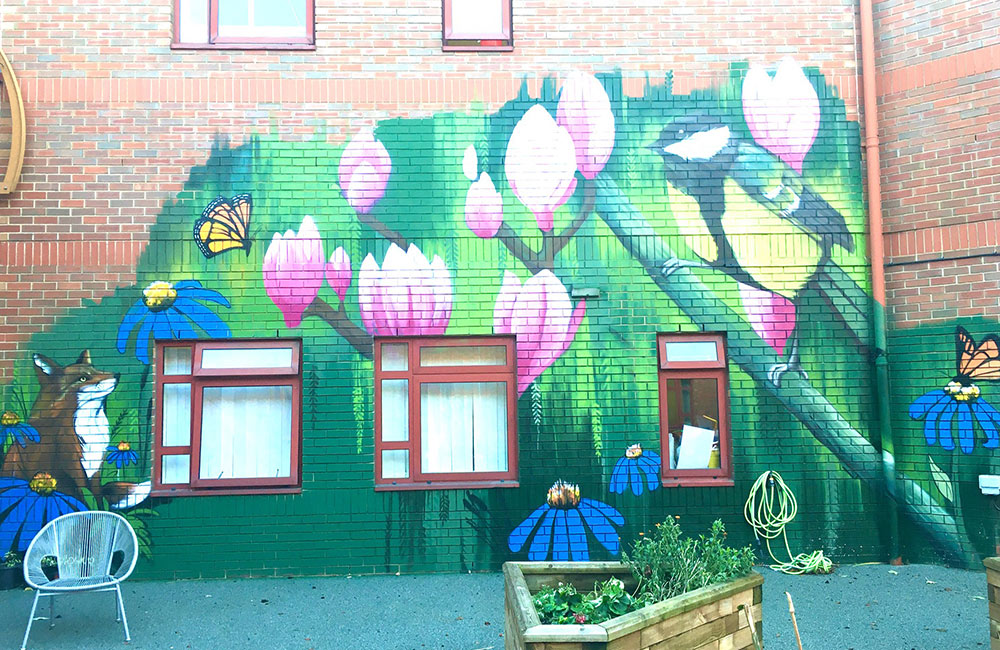 Osborn 4 courtyard garden, Northern General Hospital
An outside mural, by artist Faunagraphic, adds colour to the brick walls of the beautiful patient garden area at Osborn 4.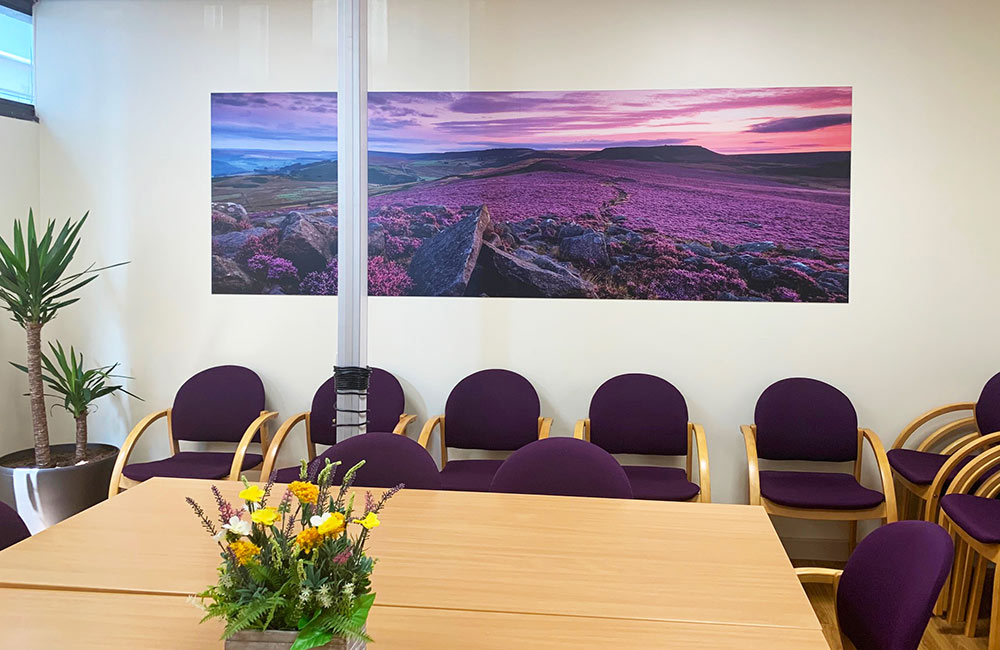 Stonegrove, Royal Hallamshire Hospital
A number of beautiful landscapes, some by Chris Upton, and others are stock images kindly donated to the department by Sheffield Hospitals Charity, bring stunning colour and a feeling of being outdoors to the walls of Stonegrove.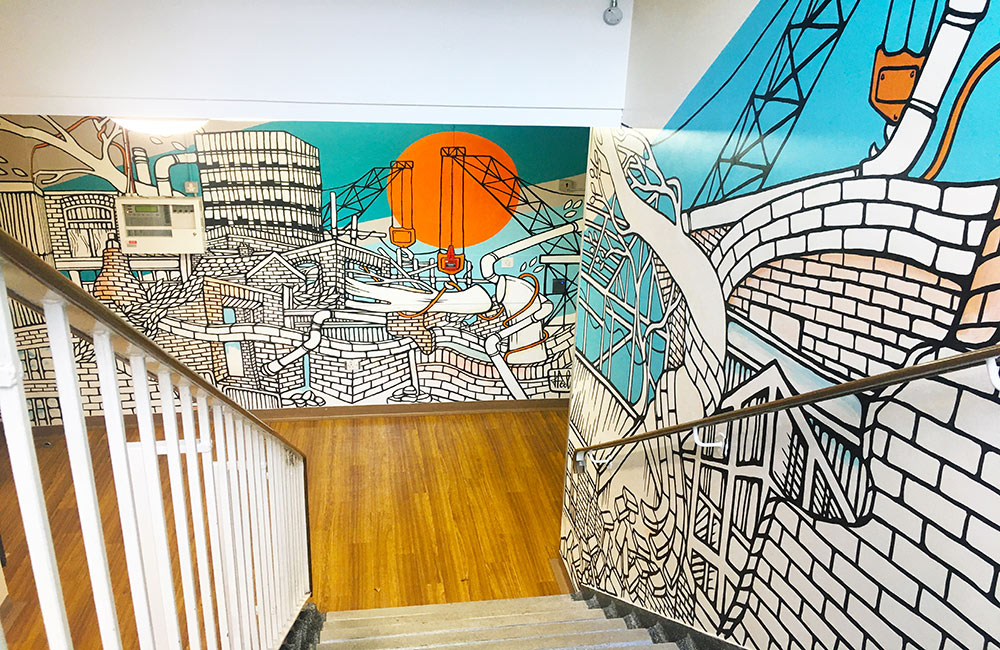 Sexual Health Department, Royal Hallamshire Hospital
These stunning murals by local artist, Jo Peel, welcoming patients into the entrance and leading them up the stairs to the first floor, have been a talking point amongst patients and staff since the artist painted them in September 2021.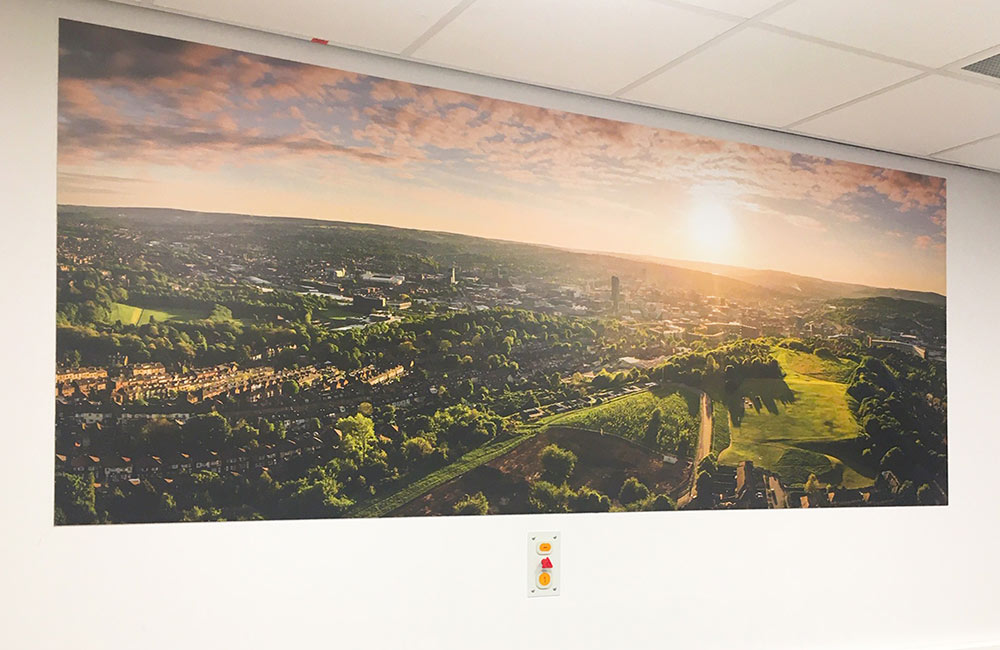 Theatres organ donation family room, Northern General Hospital
The room for families of organ donors has this beautiful large landscape, acting as a window looking out and above our beautiful city and hills.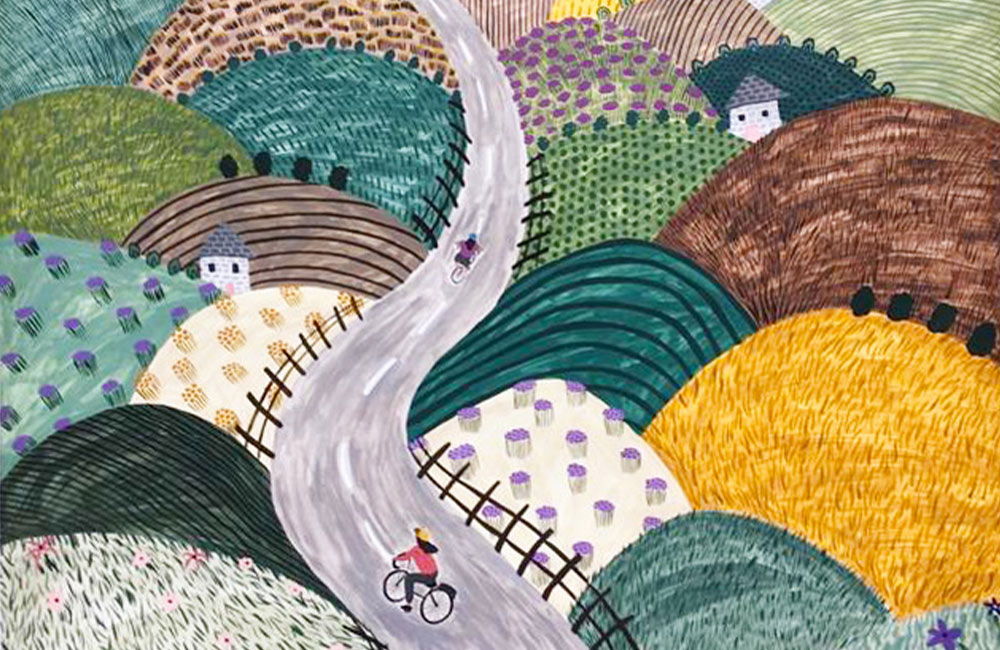 Hand Centre, Northern General Hospital
Artist Sara Boccaccini Meadows generously donated a beautiful piece of artwork entitled 'Mam Nick' to the Trust. It was unveiled in November 2021 at the Northern General Hospital by Lord Mayor Gail Smith and will be permanently displayed at the main entrance of the Hand Centre.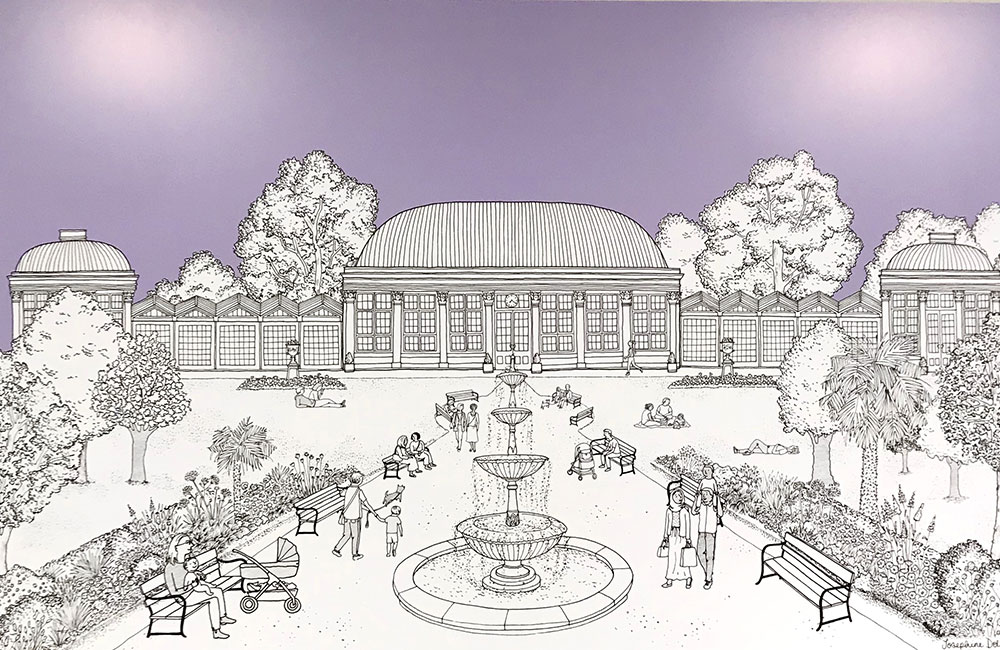 Radiology B Floor Reception Royal Hallamshire Hospital
Sheffield-inspired artwork, by local artist Josephine Dellows, brightens up our walls in the Radiology department.
Entrance / X-ray waiting area, Charles Clifford Dental Hospital
Children being sent for X-rays can enjoy the fairy door artwork by local artist James Croft.
Spinal Injuries Unit, Northern General Hospital
These black and white photographic images by Graham Dunn act as a real talking point for outpatients awaiting their appointments.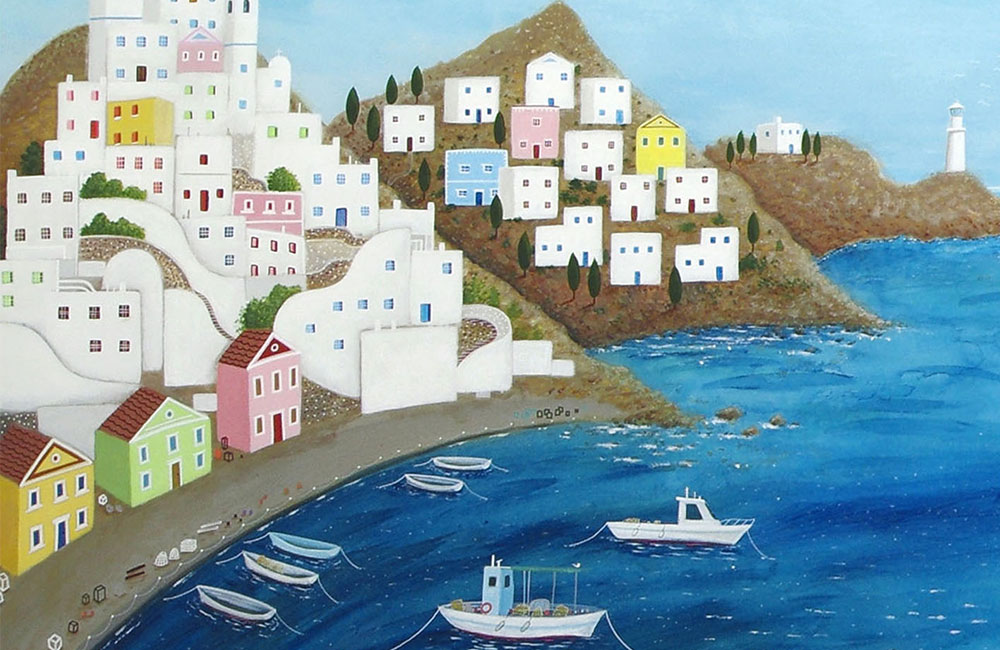 Orthodontics reception, Charles Clifford Dental Hospital
The reception/waiting area is home to this beautiful seaside mural by artist James Croft. It helps create a lovely relaxing atmosphere for our patients.
F1 Urology, Royal Hallamshire Hospital
This ward has been brightened up with 20 pieces of artwork. The bold, colourful images are by local artist Charlotte Newton.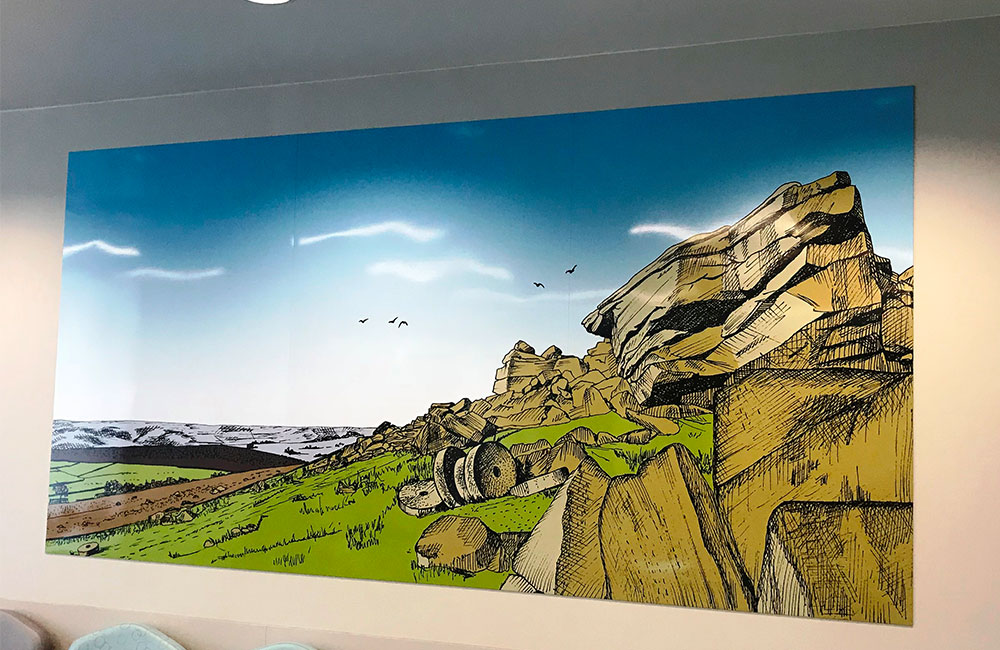 Eye Clinic Reception, Northern General Hospital
Artist Dan Savage created a large wall mural in the waiting area. The artwork is based on a local scene offering patients something beautiful to look at as well as a talking point.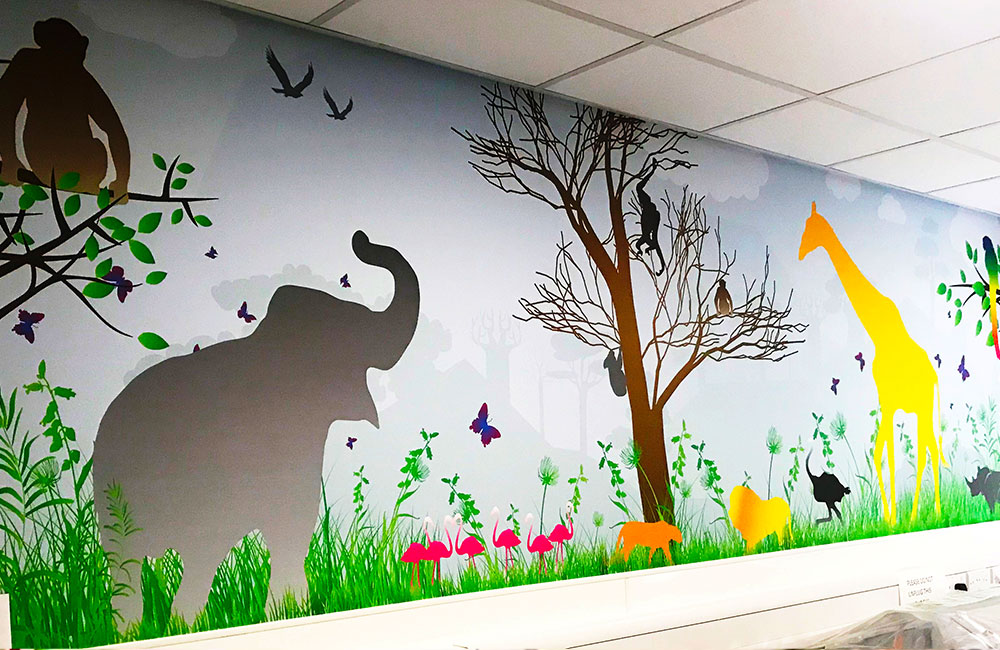 Neonatal Ultrasound Room, Jessop Wing
These fun murals, by artist Lynn Hollingsworth, brighten up a previously very clinical room, making it feel more welcoming and offering a happy distraction for families.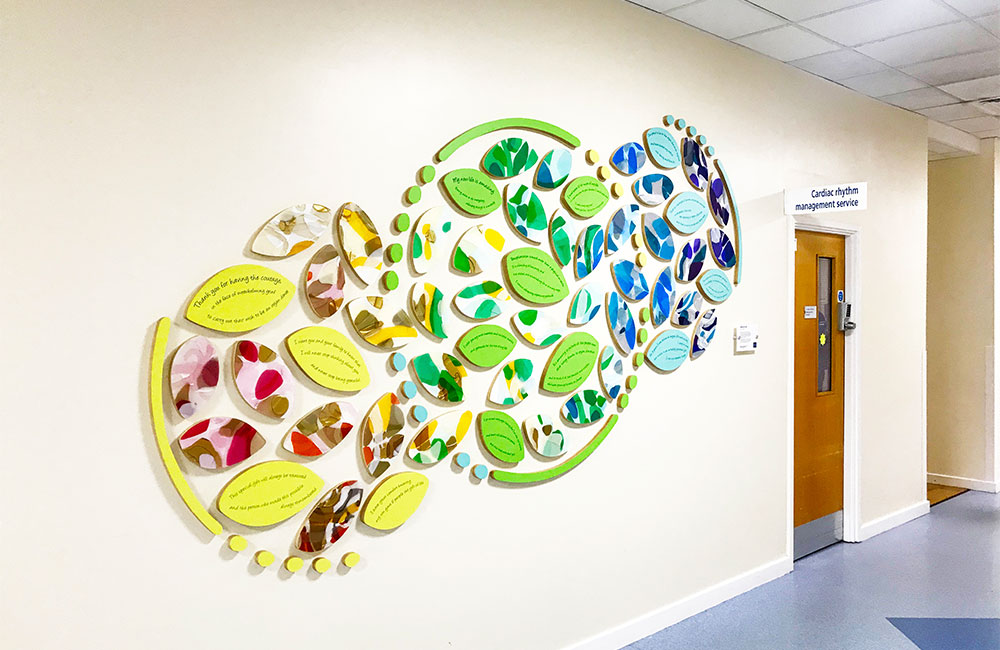 Organ Donation memorial, Northern General Hospital
'Thank you for life', designed by artist Stella Corrall, embraces the varying aspects of organ donation; from those in need, those wishing to give, and those who've had their lives transformed.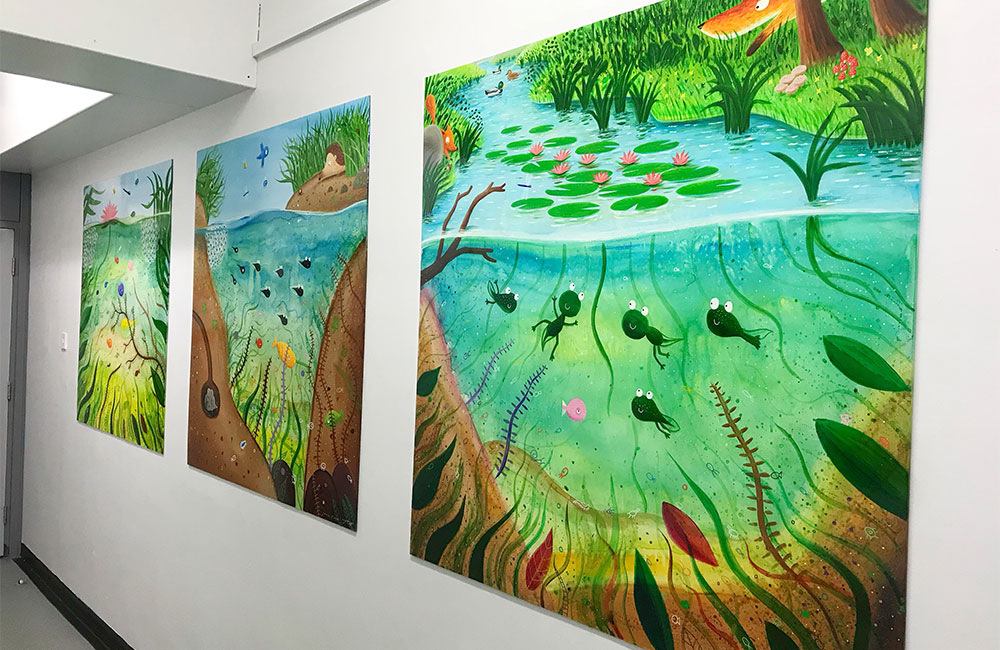 Children's department, Charles Clifford Dental Hospital
Artist James Croft created four murals called, 'It's a Frog's Life'. James said, 'My initial inspiration came from the hospital phrase, "Hop along for an X-ray". It gave me great scope for illustrating forest life and nature.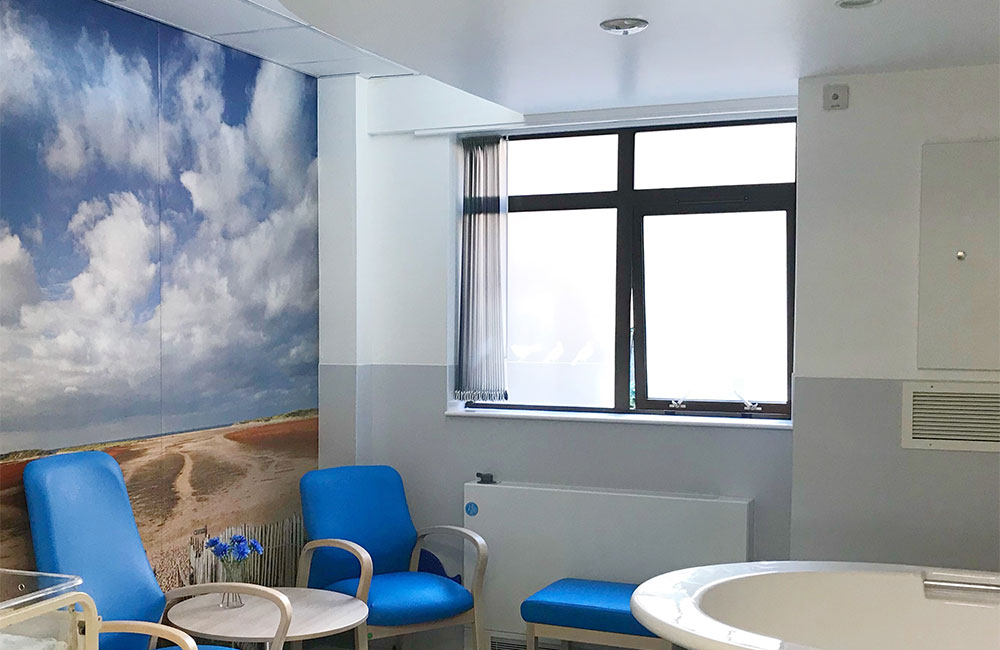 Labour ward – birthing pool rooms, Jessop Wing
Photographer Graham Dunn provided us with these beautiful images. The artwork helps to create a calming and tranquil environment.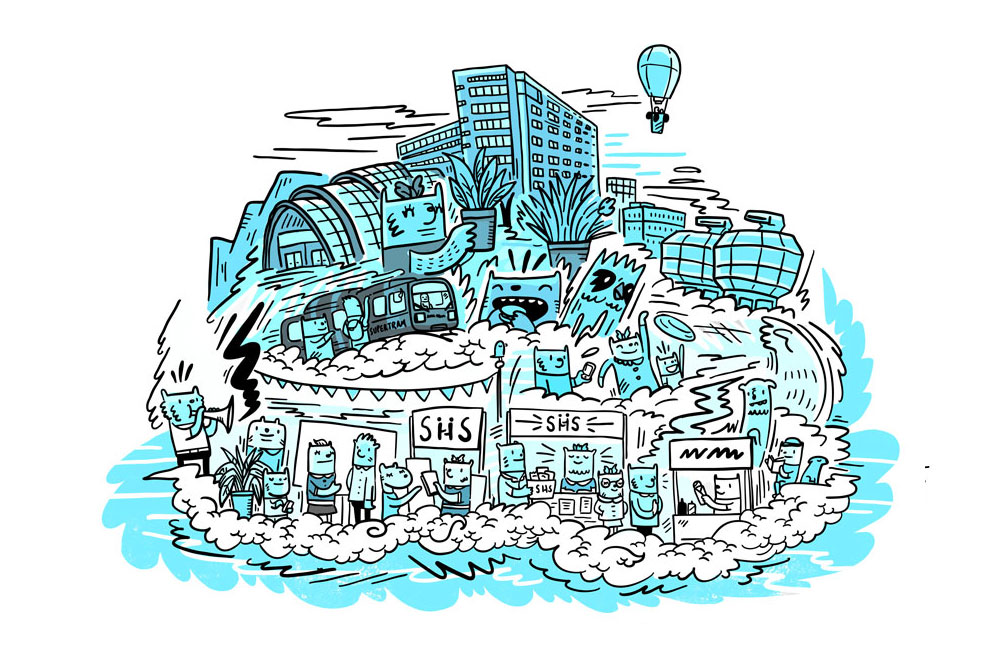 Sexual Health Sheffield, Royal Hallamshire Hospital
Sheffield-based graphic artist/illustrator Geo Law was commissioned to create three prints for the entrance of the clinic.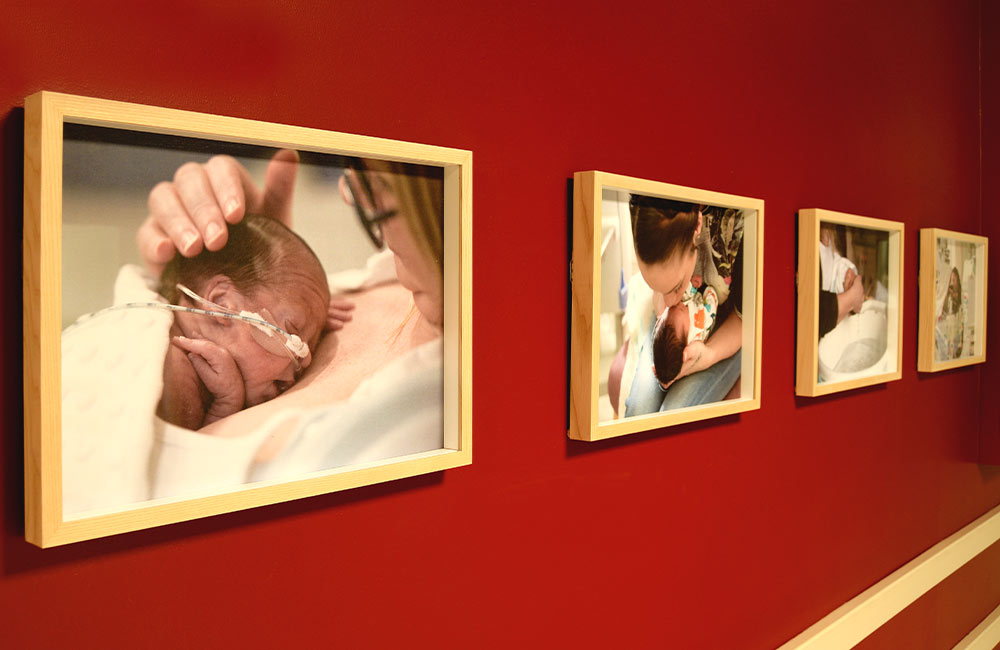 Special Neonatal Care, Jessop Wing
Local documentary photographer Andy Brown was commissioned to sensitively capture the stories of new parents and their babies born prematurely or unwell.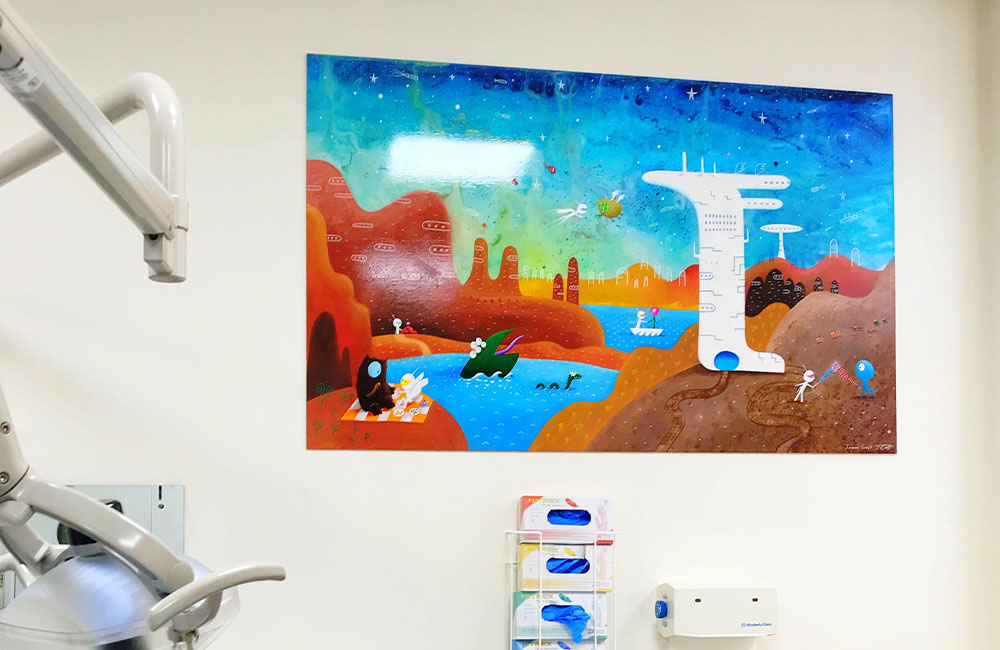 Paediatric department, Charles Clifford Dental Hospital
Local artist James Croft created these joyful pieces of artwork. We hope our young patients find this room friendly and welcoming, the paintings certainly brought a smile to our faces!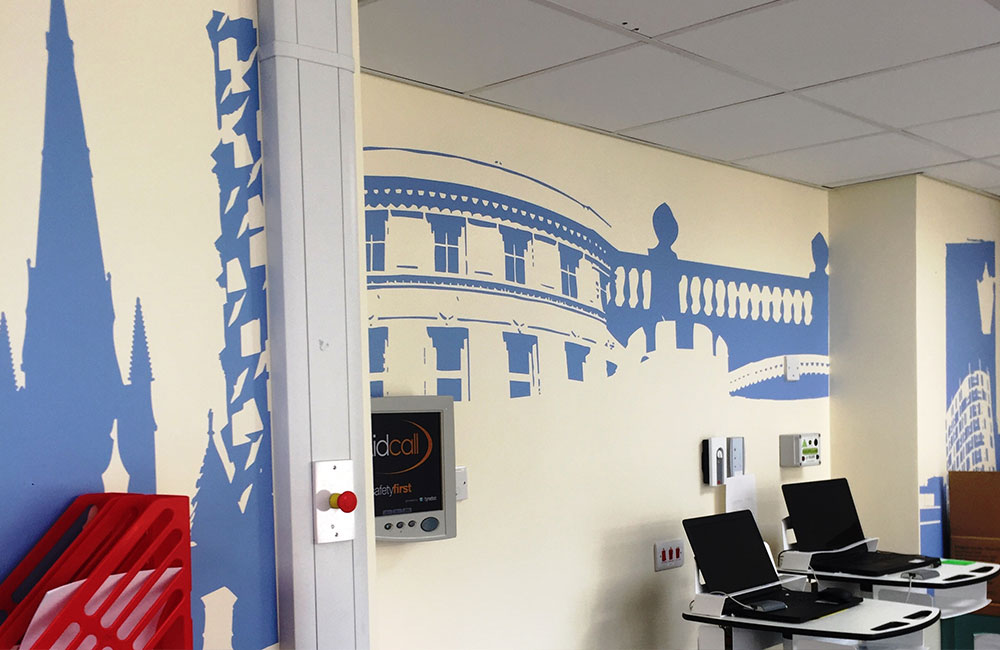 A&E ambulance entrance, Northern General Hospital
Artist Peter Griffiths created a collage based on Sheffield's skyline. The coloured and etched window vinyls brighten up the space and increase patient privacy in the ambulance area.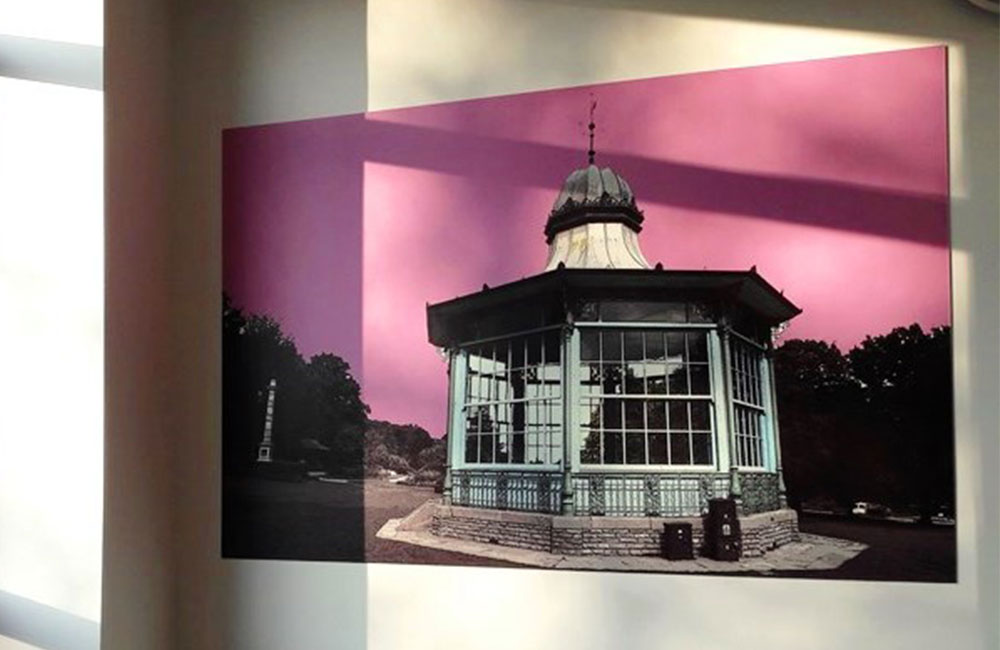 Ward 2, Weston Park Hospital
Photographer Charlotte Newton captured some of Sheffield's iconic buildings and locations applying brightly coloured backgrounds to the large-scale photographs, giving the ward a contemporary look.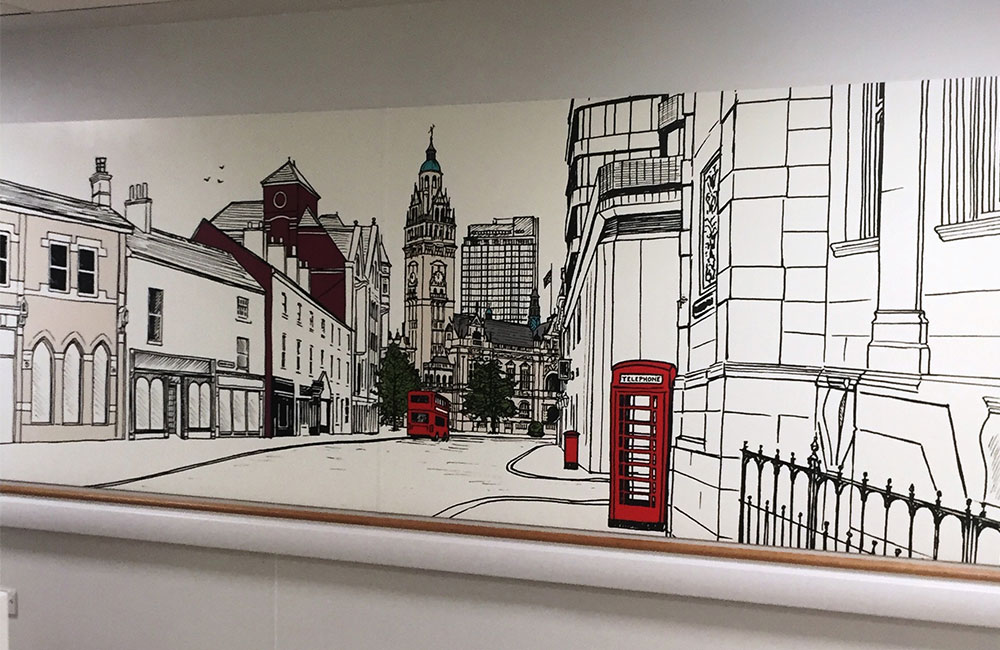 Huntsman 1 – Frailty Unit, Northern General Hospital
Four striking pieces of artwork featuring iconic Sheffield landmarks were created by artist Dan Savage. They can help patients navigate the ward, which can reduce some of the disorientation and anxiety they may feel.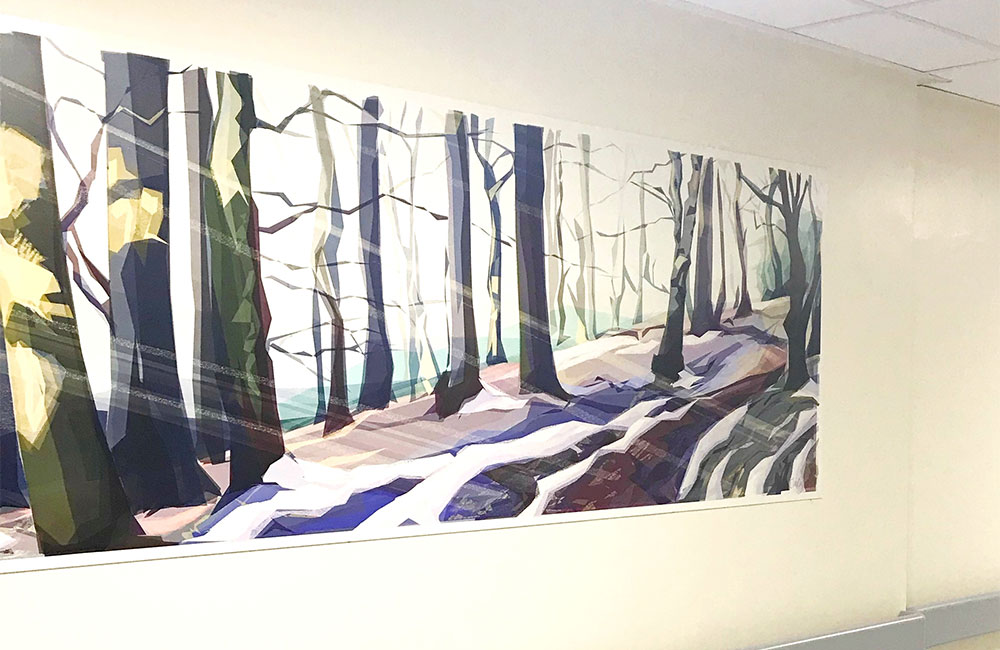 B Floor corridor, Northern General Hospital
'The Bright Woods', by local artist Jill Ray, depicts changes in landscape through the seasons. Jill said, '…walking and watching the seasons change is so relaxing, …it never fails to lift my spirits.'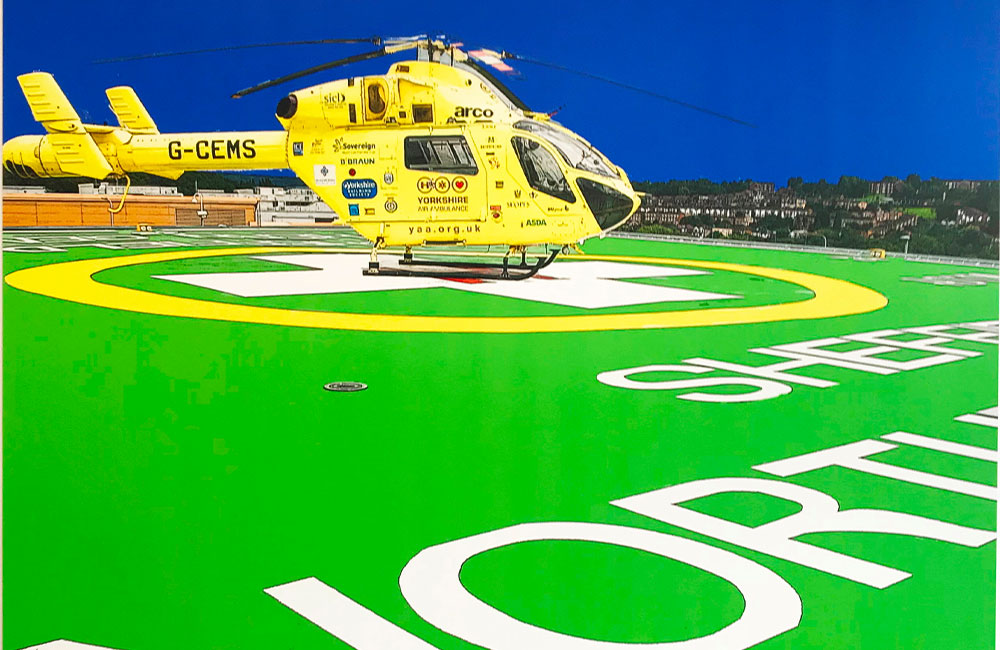 GP Centre, Northern General Hospital
Artist Charlotte Newton created four vibrant images of an air ambulance helicopter and the helipad that sits above the centre. They added a much-needed splash of colour to the waiting room.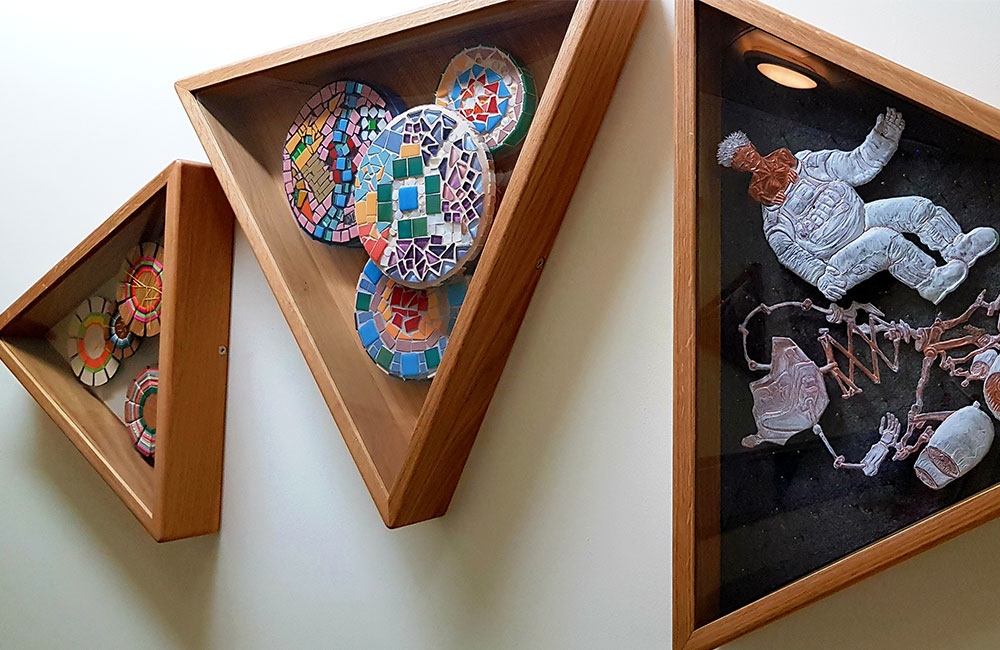 Spinal Cord Injuries Centre, Northern General Hospital
The centre proudly displays a large and impressive artwork installation created by spinal cord injury patients and artists Coralie Turpin, Seiko Kinoshita and Jason Turpin-Thomson.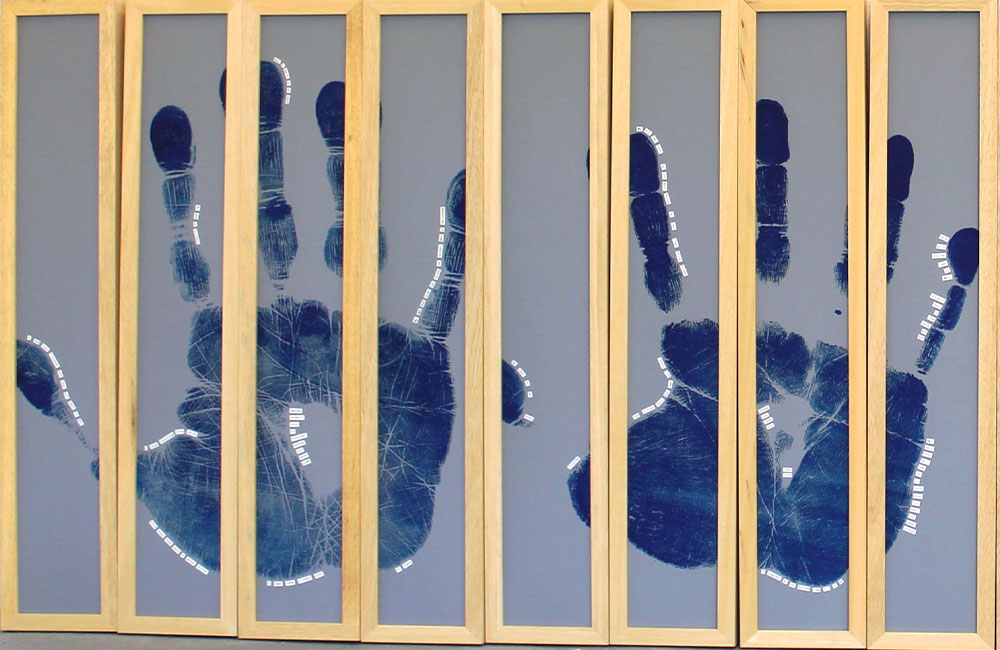 MacMillan Palliative Care Centre, Northern General Hospital
A captivating and touching series of handprints and messages created by former patients, relatives, close friends and staff from the palliative care team are framed and on permanent display.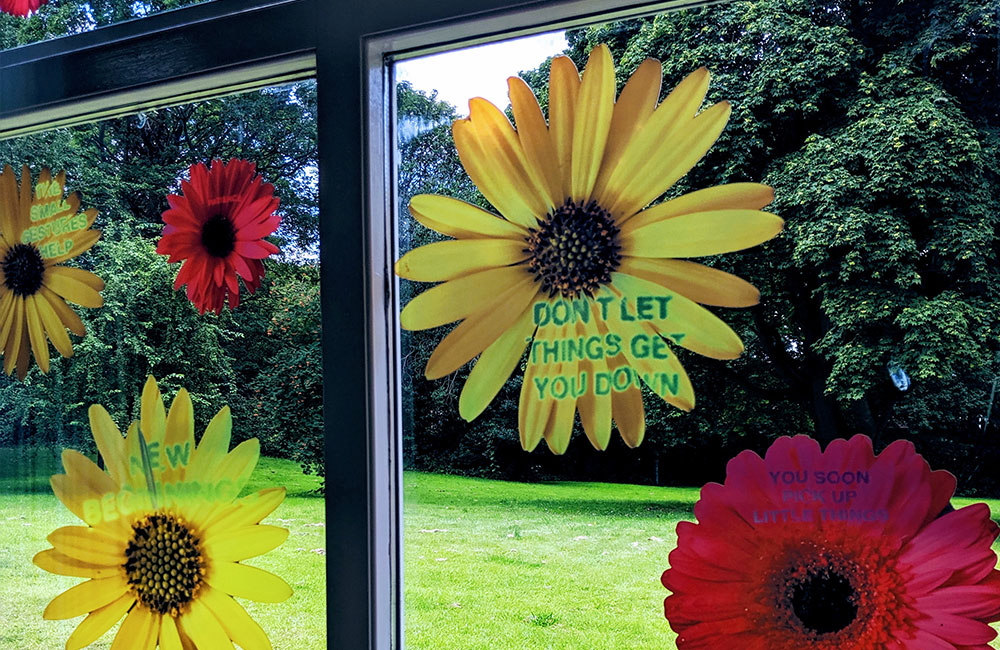 SPARC (Stroke Pathway Assessment and Rehabilitation Centre), Norfolk Park
Window vinyl artwork by artist Elisa Artesero, featuring floral designs and incorporating the words of encouragement exchanged between stroke patients, provides a beautiful and calming outlook.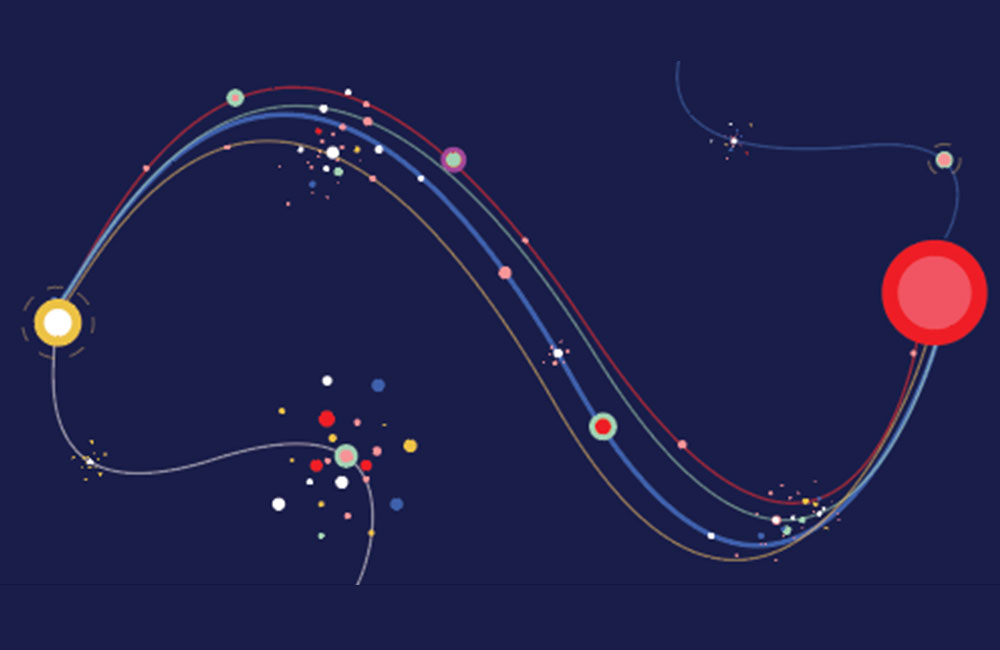 Hearing Services Department, Northern General Hospital
Two distinctive and striking graphic score paintings created during the Music for People with Hearing Loss project are on display for all to enjoy.
The Arts in Health team relies on the goodwill of our dedicated team of volunteers. We also regularly work with professional artists and musicians on a variety of creative projects across the Trust.