New Artist Exhibition at the Seven Hills Gallery
Posted on: 30 November 2021
The Arts in Health team are very happy to announce the next exhibition at the Seven Hills Gallery in Northern General Hospital. After advertising, we received a high interest from local and national artists to exhibit work in the hospital gallery, and Kate Grant was selected by the Arts in Health team and a selection committee made up of some of our brilliant colleagues from the Trust and Charity
Kate is the third artist to exhibit in our gallery since it opened in 2020. The artist is a doctor at Norfolk and Norwich University Hospital, at the Genito Urinary Medicine clinic, A&E, and also a GP. The exhibition features 27 portraits of the artist's colleagues and friends, all painted during the period between February 2020 and November 2021 (the latest one was painted and sent last week). The portraits are of our NHS colleagues, going about their day-to-day jobs. The artist said: 'I wanted to paint some portraits of my colleagues during their everyday activity at work at the Hospital and GP surgeries where I worked to lift morale. It was about the staff. We spend our lives in an occupation that we do not document with photographs.'
The exhibition will be open from Friday 26 November, in the Seven Hills Gallery on Huntsman C floor, at Northern General Hospital. You can also see Kate's work at https://www.kategrantart.com/
This work will be for sale, and commissions for bespoke portraits will also be possible. All enquiries to be made to the Arts in Health team: sth.arts@nhs.net
Sheffield Hospitals Charity funds the Arts in Health team along with many other projects across the hospitals which enhance the experience of patients, visitors and staff. The Seven Hills Gallery is kindly funded by Sheffield Hospitals Charity and the commission on any artworks sold will go to them.
Sheffield Hospitals Charity https://www.sheffieldhospitalscharity.org.uk/Appeal/art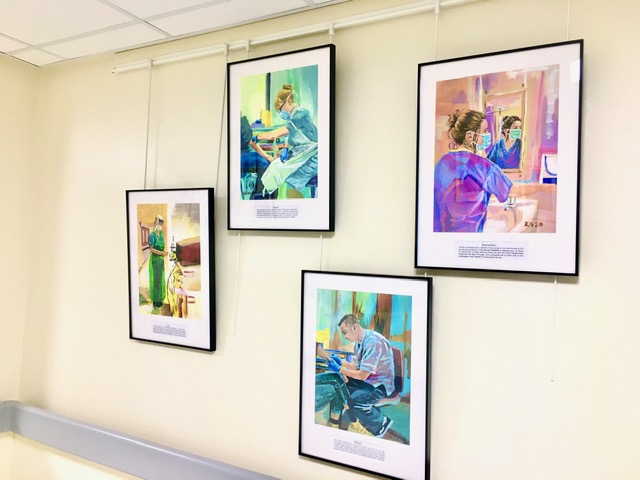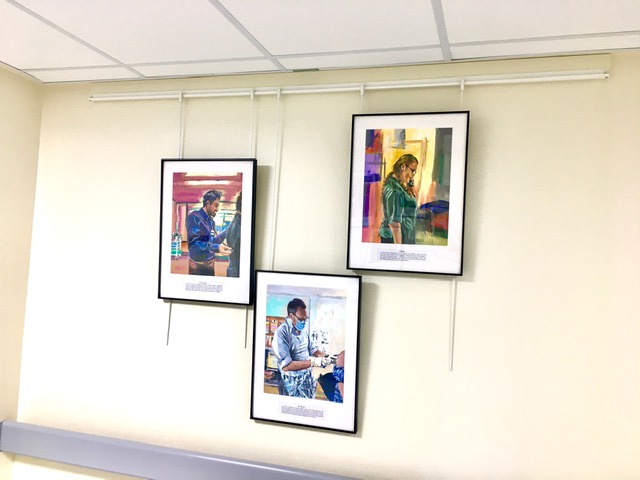 The Arts in Health team relies on the goodwill of our dedicated team of volunteers. We also regularly work with professional artists and musicians on a variety of creative projects across the Trust.